I was always attracted by the Beauty of the city, especially the Renaissance time and that was one of the most reason to decide and to realize a dream, to study Art conservation in Florence.
Thanks to my profession as an Conservator of Paintings I had the chance to get in touch and come closer to the most beautiful artworks made during the Renaissance Time.
I became a licensed tour guide of Florence in 2007 and have been showing the amazing sights to visitors from all over the world with humor and enthusiasm.
The proposed itineraries are only examples of possible tours. For customized itineraries I invite you to contact me directly to design your own special private tour.
It will be an experience.
Looking forward to see you in Florence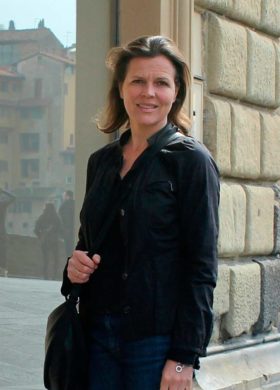 What a wonderful day! Christiane was very knowledgeable and passionate about the history, architecture, artists, and art of Florence. She brought the city and artwork to life for our group of four. We learned so much! I highly recommend this guide for your visit to Florence!
Christiane was a treasure. She is clearly knowledgeable and informed about history, geography, art, architecture, food, customs, and more. She was also full of humor and experience around the city of Firenze. She was great to chat back and forth with, willing to be asked all sorts of quite impossible questions and to offer back whatever she knew – which was plenty.
This is my second time using Christiane as my tour guide in Florence. She is absolutely fantastic and extremely knowledgeable about the city of Florence. Christiane is so accommodating and will organize a tour to your liking. If you want a friendly, smart, kind, and extremely knowledgeable tour guide, Christiane is the tour guide for you! I highly, highly recommend!
Christiane is the best, she has the knowledge, patience, and flexibility to ensure an optimum experience. Our time w Christiane gave us insights and information to "feel" the history of Florence. In addition she offered creative ideas for exploring the city on our own. Perfection.
Vielen Dank für die kurzweiligste, interessanteste und zugleich spannendste Stadtführung, die wir Vier, in Florenz jemals haben konnten. Es war ein wunderbarer Stadtrundgang . Gerne wieder.
We really enjoyed Christiane, guiding us through the Accademia and Uffizi tour. We thought she was terrific and incredibly passionate about art and history, which helped make the tour wonderful.
Christiane is an unbelievably great tour guide. The breadth of her knowledge is astounding. She brings life to the art and architecture she discusses and truly is meant for doing what she does. We were so fortunate to have her as our guide.
Wir sind wieder gut zuhause angekommen und möchten uns nochmals ganz herzlich bedanken für die Stadtführung durch Florenz. Christiane hat uns die Stadt mit fast all ihren Schönheiten näher gebracht, erklärt und die vielen Zusammenhänge aufgezeigt.